Thank-you to all of you who have grabbed a copy of our "Get Unstuck For Kids" book from Amazon this past weekend. John Seeley M.A., my co-author and friend, and I thank you from the bottom of our hearts.
It's so wonderful to know how much you have enjoyed our book, and we truly appreciate all of the lovely comments you posted for us.
Because of all of you who took the time to get a copy of our book and leave your comments you helped us to reach "Amazon Best-Seller" status AGAIN!
Check it out: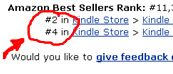 If you haven't had a chance yet to post your comments about our book, we would really appreciate it if you would take a quick minute right now, while you're thinking of it, to click here and leave your comment on our Amazon page. Thanks so much!
If you haven't had a chance yet to get a copy of our book, you can take a sneak peek right there on that page as well! Enjoy! 😀
Cheers…Amanda…Excited Life Enthusiast! ;o)
P.S. Thanks again so much for those of you who went out of your way to write up your comments for us, you have no idea how much that means to us. You're the BEST! 😀
Click here to take a sneak peek at our Best-Selling book, "Get Unstuck for Kids" and make sure to leave your comments too! Thanks. 😀
P.P.S. Don't forget to click "Like" and share this post to let your friends know about us so we can empower as many kids and teens with life and money skills as possible! Thanks so much for your help.